Portland, January 3rd, 2016. It has been an exciting year for PortlandSocietyPage.com. We've covered over 1,060 stories about local nonprofits since our launch in 2011. In 2015, we witnessed the joy of Jordan and Arlene Schnitzer at the PNCA Grand Opening and watched a transgender activist throw out the first pitch at the Bat'n Rouge benefit for Cascade Aids Project. Offering a public platform for nonprofit news and information is our goal and we continue to be inspired by the admirable work of outstanding community members. We're looking forward to many more exciting stories in 2016. Here are stories which had the most views in 2015.
Hermiston, September 4th, 2015. Farmers Ending Hunger Founder Fred Ziari & Executive Director John Burt took Portland's First Lady, Nancy Hales, on a tour of River Point Farms in Hermiston so she could see first hand what farmers are doing across our state to help end hunger. The mission of Farmers Ending Hunger is to eliminate hunger in Oregon by increasing the amount of high quality food available to hungry local communities through a partnership of farmers, food processors, Oregon Food Bank and the public…
Portland, November 6th, 2015. Guide Dogs for the Blind (GDB) raised a record-breaking $57,000 at this year's sold-out Oregon Fall Luncheon event at the Nines Hotel in Portland. During the event, eight puppies born at GDB were introduced to the Portland-area local families who will care for them, and teach them basic obedience and manners, during the first year of their lives. Many of GDB's local puppy raisers have mentored more than 10 puppies on behalf of GDB. After their time with the puppy raisers, the dogs return to one of GDB's campuses for formal training. GDB is the largest guide-dog school in North America. (Photo credit, Morry Anne Angell)…
Park City, January 24th, 2014. Executive producer Brad Pitt and actor James Franco were at the premiere of "True Story"during the 2015 Sundance Film Festival. Franco plays Christian Longo, who killed his wife and three children on the Oregon coast in 2001 and fled to Mexico, where he said he was Michael Finkel, a reporter for The New York Times.
Portland, April 11th, 2015. More than 700 guests joined St. Mary's Academy for A Moment to Sparkle, the school's 27thAnnual Auction held at the Oregon Convention Center's Portland Ballroom. Cathy Marshall of KGW served as the mistress of ceremonies for the evening, keeping the crowd excited and engaged. The event was a sparkling success as St. Mary's Academy raised $1,070,000 thanks to the generosity and support of the school's dedicated community. This extraordinary amount is the largest in the history of the event and $170,000 over last year.
Portland, March 20th, 2015. The Grand Opening Celebration for PNCA's Arlene and Harold Schnitzer Center for Art and Design at 511 NW Broadway went off without a hitch. It was an opportunity to officially preview the new Center for Art and Design.  Through a $34 million transformation of a nearly century-old post office, the College is positioned at the heart of the city's burgeoning creative corridor. Community leaders say the opening of the center will usher in a new era of art and design education in the Pacific Northwest. The expansion is expected to bring vitality to the North Park Blocks as well as the Old Town and Chinatown neighborhoods. (Photo credit, Mario Gallucci)…
Portland, April 26th, 2015. After six years of service to the community, 22 high school seniors from The National Charity League, Inc. Portland Chapter were honored at a special celebration at the Sentinel Hotel.  Most of the young women, including Natalie Kinsel, Isabel Klein and Adele English began volunteering with their mothers during seventh grade and in total, the seniors worked 3,069 hours…
Portland, May 17th, 2015. Flawless Foundation board member Sheila Hamilton hosted a private event in her home to benefit the work of the foundation. She's pictured with Ron Cain, Jeff Kohnstamm and Sally Kohnstamm. The evening offered a chance for guests to become acquainted with the Foundation's mission, which is to revolutionize the way people perceive, prevent, and treat brain-based behavioral challenges. (photo credit, J.Francis Rhodes)…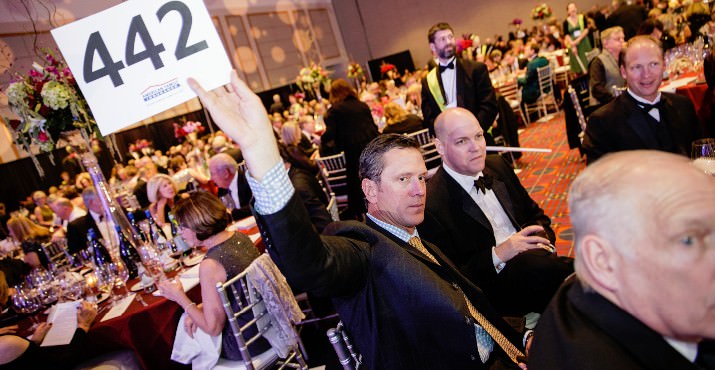 Portland, March 7th, 2015. The 31st Annual Classic Wines Auction (CWA) raised almost $3.2 million for charities in Portland and southwest Washington. Former New England Patriots Quarterback and Proprietor of Doubleback Winery, Drew Bledsoe, was bidding during the live auction. More than 875 people attended the event at the Oregon Convention Center. Fundraising from this year's auction, and related events, benefit five charity partners dedicated to helping youth and families in the metro area: Metropolitan Family Service, New Avenues for Youth, Friends of the Children-Portland, YWCA Clark County and Randall Children's Hospital at Legacy Emanuel…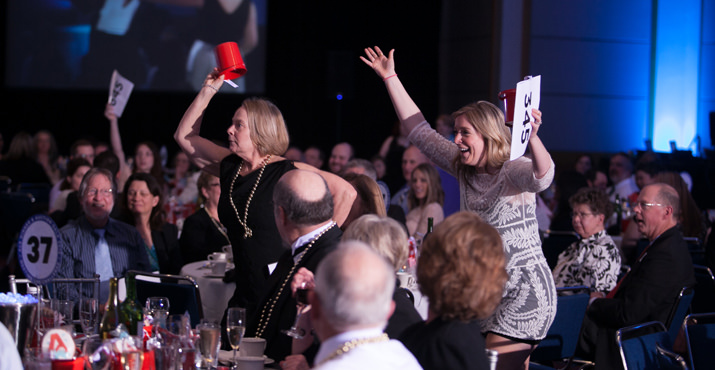 Portland, March 14th, 2015. There were lots of excited ALS supporters at the nonprofit's gala. The event drew over 600 people who had the chance to bid on live auction packages such as a trip for two to climb Mt. Kilimanjaro. The benefit raised $345,000 to continue the fight against ALS. Patrons also had the exclusive opportunity to hear from Barbara Newhouse, President and CEO of The National ALS Association as well as Nancy Frates, mother to Pete Frates, one of the young men who helped initiate the Ice Bucket Challenge out of Beverly, Massachusetts. At the event Claudia and Molly McClure had fun capturing the auctioneer's attention.
Portland, February 12th, 2015. This year's Providence Child Center Heart of Gold Dinner was an evening full of heartwarming tributes and an outpouring of generosity. Carole Vranizan, Dave Rianda, former Governor Barbara Roberts, and Valerie Fisher enjoyed the evening. The event raised more than $495,000 for Providence's Center for Medically Fragile Children to support the life enriching programs and therapies that help these children reach their fullest potential…
Thank you for supporting PortlandSocietyPage.com!