Portland, OR. Move over pumpkins, the Lan Su Chinese Garden is welcoming fall with its Chrysanthemum Festival. The garden kicks off a month of floral programming in November with "Nights of the Golden Flower", November 3-5th. This is the return of the popular chrysanthemum floral design showcase at the Chinese garden after a 4-years hiatus. (Photo credit Jeff Day Photography)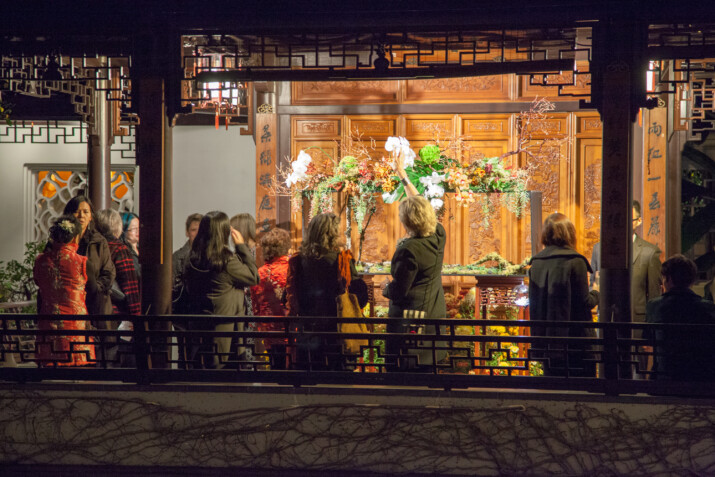 This juried floral art showcase and competition is headlined by floral artist Donald Yim with participation by over a dozen local floral artists. Ticketed guests will be treated to a special weekend of live music, floral design demonstrations, and large-scale illuminated floral art displays to enjoy in the garden after dark.
During November, Lan Su are visitors are invited to take part in floral art workshops, plant cultivation talks, horticulture tours, and delight in the garden adorned with Chrysanthemums. In traditional Chinese culture, the Chrysanthemum is considered one of the "four gentlemen" of plants (along with plum blossoms, orchids, and bamboo) and a symbol of autumn and perseverance.
Click here for a link to tickets to the chrysanthemum festival
From Lan Su Chinese Garden:
Lan Su Chinese Garden Located at 239 NW Everett Street, Lan Su Chinese Garden is one of Portland's greatest treasures. A tranquil oasis in the heart of the city, Lan Su is a powerfully inspiring experience that takes you through time, offering a window into Chinese culture, history, and way of thinking. Lan Su Chinese Garden opens 10 am – 4 pm, Sunday through Saturday starting Oct. 15th. Admission is $14.00 with reduced rates for students and seniors. Admissions are available at www.lansugarden.org.