Portland, OR. What a year! PortlandSocietyPage.com has featured over 500 local nonprofits in 2019. Those admirable organizations have raised millions of dollars for worthy beneficiaries. It's our privilege to be the top nonprofit news resource for local charities and the supporters who love them! Did you miss any stories? Subscribe to our free weekly newsletter by CLICKING HERE! Have a great idea for 2019? Contact Editor & Publisher Elisa Klein, at [email protected].
So…here's the list of the top ten most viewed stories (in reverse order to build your suspense) on PortlandSocietyPage.com during 2019.
Portland, OR. 270 guests raised $216,000 to support the PTC of Riverdale Grade School and Riverdale High School at its 007-themed gala. Parents Heather Burton, Niki Seawright, Wendy Domreis, Wendy Tolls & Kristen Best enjoyed the Casino Royale theme. The benefit on February 23rd was held at The Redd on SE Salmon Street. Nearly $70,000 will be passed through directly to the schools to help fund a "Let's Play" paddle raise initiatives such as playground updates at the Grade School and new activity/athletic van and a Freedom Climber for the gymnasium at the High School. Read More
Portland, OR. More than 500 people attended the annual Oregon Museum of Science and Industry's (OMSI) Gala to support efforts to spread science education across the Pacific Northwest. Governor Kate Brown, Piper Park, Kathy Rudd and Pat Reser were on hand for the May 4th gala. The benefit, which took place at OMSI, grossed more than $1.5 million through sponsorships, ticket sales and an auction, making it the nonprofit museum's most successful event to date. This year's gala, titled 'Diamond Jubilee,' commemorated OMSI's 75th anniversary. Read More.
Portland, OR. Over 600 guests including current parents, alumni, past parents and friends enjoyed a festive evening at Jesuit High School's 51st Annual Auction: Jazz Night in New Orleans. The Knight Center was transformed into a jazz club with music, Creole cuisine and colorful décor. Auction Chair Katherine Kreutzer, Major Program Director Anne Robinson, JHS President Tom Arndorfer, Auction Co-Chair Mary Murphy celebrated at the festive evening on May 4th. This year's auction exceeded expectations with over $1,045,000 raised. Read More
Portland, OR. Drawing a record 450 guests, Cascadia Behavioral Healthcare's 2019 Transformation Gala raised nearly a quarter million dollars in support of the nonprofit's whole health care and outreach services. Attendance was the highest in the Gala's three-year history, growing by 100 supporters over last year. Lisa Oyler, Chiki Nussbaumer, Gayathrai Ramprasad, Toc Soneoulay-Gillespie and Tamara Pedrojetti were among the hundreds who enjoyed the night. Read More.
Portland, OR. The Children's Cancer Association (CCA) raised $1.27 million at its 19th annual Wonderball gala on September 28th. It was CCA's biggest event of the year, which helps fuel its mission to prescribe joy to seriously ill children through free innovative programming that leverages music, friendship and nature. Founder Regina Ellis, who is pictured with friends and family, welcomed more than 950 supporters to the Oregon Convention Center for the gala. A Joie de Vivre theme celebrated French culture and the joy of life. Read More.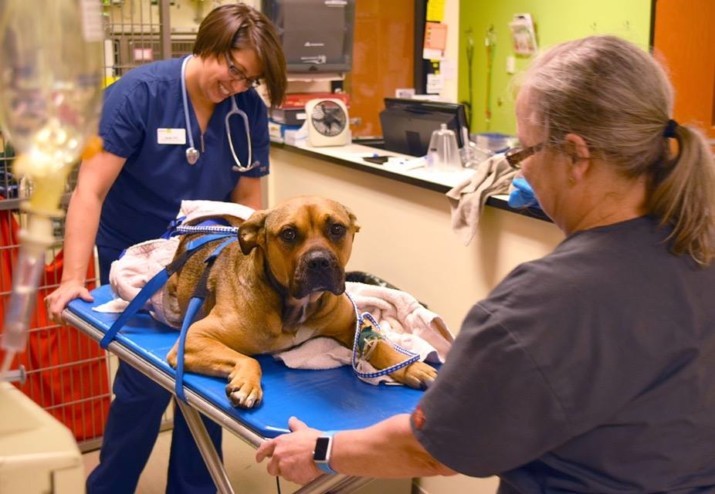 Portland, OR. DoveLewis has been selected as one of seven 24-hour animal hospitals that will be featured in a live National Geographic TV show called Animal ER Live. The series starts on Saturday, March 30th and will air from 6 to 8 p.m. Show creators promote the program, writing: "Be just a heartbeat away from the action as the team at DoveLewis Veterinary Emergency & Specialty Hospital, the Northwest's nonprofit 24/7 animal hospital, treats animals in the midst of emergencies on Nat Geo WILD's new live TV series, Animal ER Live." Read More.
Portland, OR. Starting on February 7th, more than 100 illuminated installations, artists, performers, interactive activities, and events will brighten the Portland cityscape for the 2019 Portland Winter Light Festival (PDXWLF). This free annual program of the nonprofit Willamette Light Brigade is expanding to its largest footprint yet. Read More.
Portland, OR. Eight hundred guests gathered for the 35th Annual Classic Wines Auction and raised $3 million dollars for five nonprofit partners. This brings the total raised, over 35 years, to nearly $50 million. The benefit was at the Oregon Convention Center on March 2nd. The nonprofit beneficiaries this year were: Metropolitan Family Service, New Avenues for Youth, Friends of the Children – Portland, YWCA Clark County, and Unity Center for Behavioral Health. (Photo credit, John Valls) Read More.
Portland, OR. More than 350 supporters joined forces for Portland Opera's Flora + Fauna Fall. The September 14th benefit, at the Sentinel Hotel featured a performance by Broadway star Sutton Foster. Portland Opera raised over $1 million dollars. Organizers say proceeds from the Flora + Fauna Fall Ball will strengthen Portland Opera's ability to serve audiences throughout the region, by supporting operational costs as well as special programming and projects. (Photo credit, Garrett Downen) Read More. 
Portland, OR. This December will mark the 65th launch of the Christmas Ships Parade season. Parades on the Columbia and Willamette Rivers will last for 15 nights beginning on Thursday, December 5th through Sunday, December 22nd. There are seven nights where the fleet with be combined. Read More.
Well, there you have it, the top 10 Portland Society Page stories of the year. Society Page is a free community platform where you can make a difference. If you enjoy reading our positive news about the great things happening in our area, you can help and here's how:
Subscribe to our free weekly newsletter and encourage your friends to do the same. Click here.
Share our good news on your social channels.
Send us your story ideas and submit your events for our calendar.
Purchase an advertisement to reach our thousands of philanthropic readers.
We are excited to continue "Building Your Community" in 2019!
HAPPY NEW YEAR! HERE'S TO 2020!
Elisa Klein, Editor