Portland, OR. The 2016 Christmas Ships Parade season is upon us. About 60 ships, including seven new displays, will be parading on the Columbia and Willamette Rivers for 15 nights, beginning on Friday Dec. 2nd. Organizers combine the fleets for six nights. The schedules are below.
Here's a link to the Columbia Fleet Schedule and Willamette Fleet Schedule. Please check the Christmas Ship Facebook and Twitter pages to make sure the ships are on schedule in inclement weather..
Organizers send out position reports via Twitter on most parade nights.  Look for either #ColumbiaFleet or #WillametteFleet at www.twitter.com/ChristmasShips.
From Christmas Ships: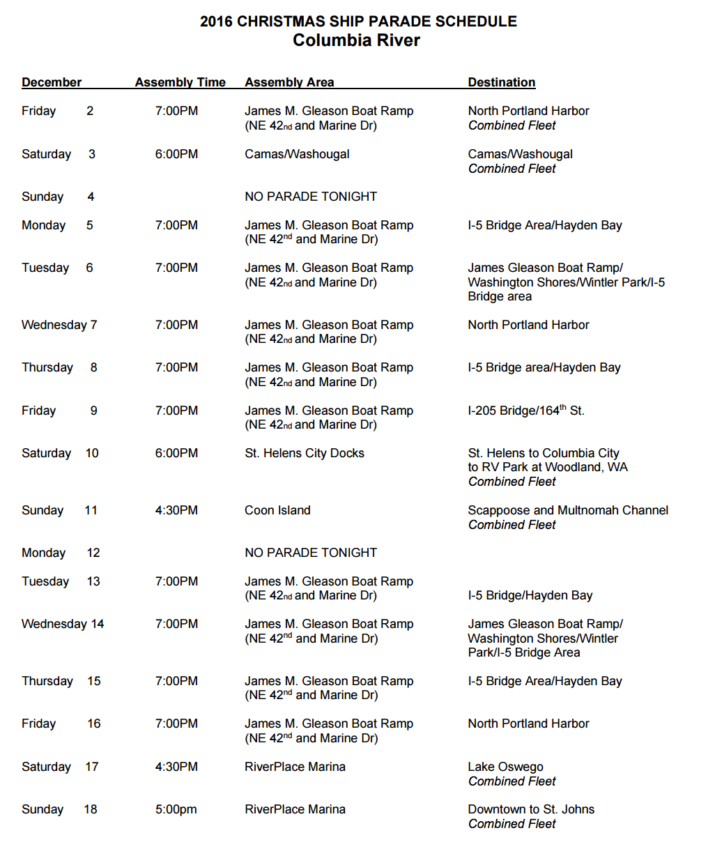 From Christmas Ships:
All of us from the Christmas Ship group urge your support to keep the Parade afloat. Your donation helps to sustain the parade that sails on the Columbia and Willamette Rivers annually. Our lighted boats bring holiday spirit to thousands of viewers in the area and a showcase event for your customers and guests. 
Our members pay all of their own expenses, from decorations to operating costs. It is a huge time commitment but we all enjoy the Parade season. Donated funds help to defray the cost of administering, maintaining and promoting our non-profit organization. Christmas Ships, Inc. is an all-volunteer organization, there are no paid staff, all donations are returned to the community through the continued existence of the Christmas Ship Parade.
This website is used extensively by our visitors to make reservations for restaurants to watch the Christmas Ship Parade and to plan home parties to view the fleet. Please consider sending your donation today.
We thank you in advance for your help in making this year's Christmas Parade the best ever. We list our contributors on our Supporters page (unless you choose to remain anonymous).
Christmas Ships, Inc. is a tax exempt organization. EIN #93-1157902
For those that don't want to donate online (via Paypal), checks can be mailed to:
Christmas Ships, Inc
PO Box 55331
Portland, OR 97238-55331