Meal Time: 6 pm, Thursday
111 W Burnside St, Portland, OR 97209
503-906-7690
A traditional meal is also served on Wednesday, the night before Thanksgiving.
Meal Time: 10 am, Thursday
3 NW 3rd Ave
503-274-4483
A traditional meal will be served to-go on Thanksgiving Day.
Other Thanksgiving Volunteer Opportunities:
Blanchet House does not serve meals on Thanksgiving Day or Christmas Day so that its shelter residents who help to prepare and serve meals can enjoy a day of rest. The nonprofit has volunteer opportunities that you can do from home on Thanksgiving. See below.
From Blanchet House:
You can volunteer from home by doing one of the following meaningful activities.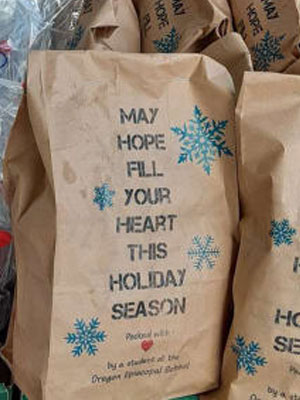 Prepare 10-100 sack lunches and drop them off at Blanchet House. Review our Sack Lunch How-To for the details.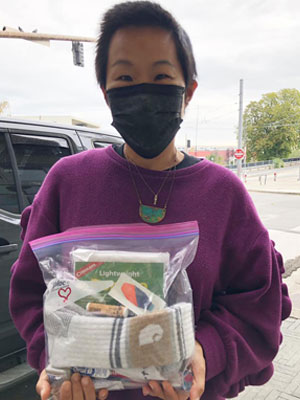 Pack care kits containing essential survival items like socks, toiletries, rain ponchos, and snacks.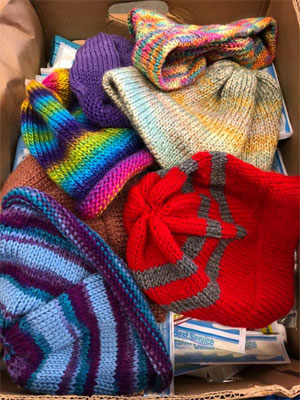 Our guests are in need of adult-sized seasonally appropriate clothing and sleeping essentials.
Drop Off at Blanchet House
Donations can be dropped off Mon-Sat*, at 310 NW Glisan St. from 8 – 10:30 a.m. and 1:30 – 4 p.m. *We are closed on Thanksgiving and Christmas. 
Pull up to our entrance, knock on the door to get our attention, and a staff member will retrieve your donation from the car. If you'd like a donation receipt, we can provide one. You can also call us at 503-241-4340 or email [email protected].
If you would like to volunteer on-site at Blanchet House on a day that is not a holiday sign up here. Blanchet House is open Mon-Sat, except for New Years Day, Thanksgiving Day, and Christmas Day. We are open all other holidays.
Have a question? Blanchet House Frequently Asked Questions