Portland, OR. United Way of the Columbia-Willamette (UWCW) is expanding into a new area by supporting the Bybee Lakes Hope Center. A $1.2 million donation from UWCW will help expand the existing facility at the Jordan Schnitzer Campus. It's a transitional housing facility run by the Oregon nonprofit, Helping Hands Reentry Outreach Centers. The funds will complete the renovation of the 155,400-square-foot Wapato Correctional Facility in the Port of Portland into a trauma-informed, data-driven transitional housing facility to support Portland Metro community members experiencing homelessness.
Helping Hands provides services to those experiencing homelessness who are, "ready to make sustainable changes to achieve self-sufficiency." Referrals to the Hope Center are accepted from the registered community partners, listed at the end of this article. The Hope Center serves homeless men, women, and families with children. Participants must be ready to be clean and sober (even if today is day one), and they cannot be registered sex offenders of any class since the program also serves children.
Here are current photos of the facility: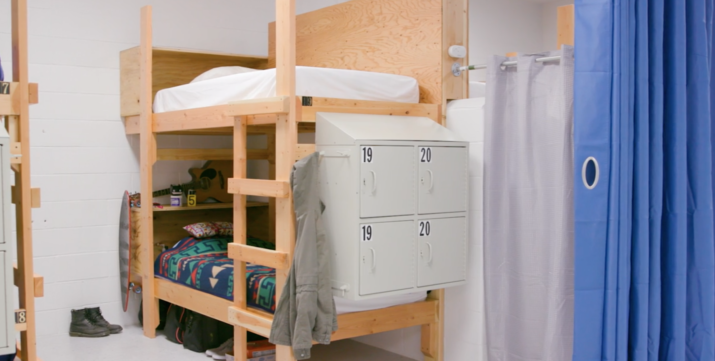 UWCW has a history of investing in Oregon and Washington's children and families through early learning and housing stability/safety net programs, facilitating the collaboration of community organizations and strategic grant making. Putting racial equity at the center of its mission, UWCW focuses where the need is greatest and identifies and implements the most effective solutions to build a more inclusive and equitable region where all families have the resources and opportunities to thrive.
"We know that housing stability is a key contributor to family resiliency," says Cindy Adams, president and CEO of UWCW, who joined the Bybee Lakes Hope Center advisory board this week. "Our support of Bybee Lakes Hope Center will more than double the number of individuals who can transition from houselessness to having a more sustainable living environment. Housing stability is fundamental to positive education outcomes for kids and health and employment outcomes for individuals and families."
Bybee Lakes Hope Center uses an innovative approach to houseless services with its trauma-informed, data-driven and person-centered practices. At the center, clients receive three meals a day, access to technology, gardens, playgrounds for kids and a customized Individual Reentry Plan, in addition to dorms for men, women and families and coming soon, an LGBTQIA+ Rainbow Dorm. Using proprietary software to track utilization of services, as well as gather each individual's unique story to create a plan for them to work toward sustainable housing, Bybee Lakes Hope Center has proven the success of its individualized model for changing lives and is setting a nationwide standard.
This grant from UWCW will go toward additional amenities and services, including:
Dorms for men, women, families and LGBTQIA+
On-site dog kennel and dog run with volunteer veterinarian services
1.5-acre therapeutic garden with orchard, exercise paths and raised bed gardens
Two playground/play areas for children and families
Medical, dental, mental and behavioral health care
Professional kitchen with vocational training
Multiple classrooms
Crisis Management, case management and resource navigation
"With nearly 20 years of serving the homeless, Helping Hands has enjoyed a long-time partnership with United Way in several Oregon counties," says founder and CEO, Alan Evans. "We're thrilled to expand our partnership with United Way of the Columbia-Willamette through our work at the Bybee Lakes Hope Center at the Jordan Schnitzer Campus. This meaningful contribution will help ensure the long-term sustainability of this facility, so we can continue to bring hope to community members experiencing houselessness."
United Way's $1.2 million grant to Bybee Lakes Hope Center is made possible by a $20 million gift from MacKenzie Scott as part of the philanthropist's first round of The Giving Pledge. The center opened in October 2020 after the land was donated by Jordan Schnitzer. The economic uncertainty of 2020 caused construction to be halted after one-third of the center was completed.
"Bybee Lakes Hope Center is a perfect example of different sectors, including government, nonprofit, and private philanthropy, stepping up to find solutions for one of the true challenges Oregon and the entire country are facing today," says Oregon State Senator Betsy Johnson. "Now Alan's vision for that innovative model is both being realized and expanding in Portland with this generous donation from United Way today."
Current Referral Partners for the program:
To contact the BLHC Outreach Coordinator James Autry, please email [email protected].
About United Way:
For 100 years, United Way of the Columbia-Willamette has been working to meet the needs of vulnerable families. No matter the crisis, we have always remained steadfast to our commitment to LIVE UNITED. Together, we're helping our community recover, become more resilient, while building a more inclusive and equitable region where all families have the resources and opportunities to thrive. For more information and to get involved, please visit www.unitedway-pdx.org.