Portland, OR. With hubs around the city instead of just around OMSI, thousands more people are taking in the 3rd Annual Portland Winter Light Festival than in past years. One eye-catching display called FORM was outside the WeWork Custom House at 220 NW 8th Ave. More than 100 illuminated installations, artists, performers and events brightened the Portland cityscape. The festival is an activity of local nonprofit The Willamette Light Brigade.
Saturday closing night live events include:
Hub A:
Light Science Talks, Theory Cafe at OMSI
Stories Around the Fire, Oregon Rail Heritage Center
PDX Winter Light Festival Art Walk (ASL & Deaf Friendly!), starts at Oregon Rail Heritage Center
Tesla Coil Show: Arcs, Sparks & Corona Glow, Oregon Rail Heritage Center
Flamebuoyant Productions, Caruthers Landing
Lantern Parade, OMSI (ends at Hub B)
Return of the Love Show!, Ford Food & Drink
Byte Me 7.0, AFRU Gallery
Sailing between Hub A & Hub B: Portland Opera resident artists & Mysti Krewe of Nimbus.
Hub B:
WTC Showcase: BodyVox/Éowyn Emerald & Dancers/Simple Machines, WTC Auditorium
WTC Showcase: Rainbow Dance Theatre presents iLumiDance, WTC Auditorium
Fun Luv'n Silent Disco, WTC Plaza
Circus Luminescence, Salmon Street Springs
Christmas Ships Parade, public dock near Riverplace
PSU Light Works, 1914 SW Park Ave
Hub C:
All art galleries and installations excepting Night Lights: Julia Calabrese will be open. Many are viewable 24/7. Check www.pdxwlf.com/hub-c for details
Hub D:
Filmed by Bike at Portland Winter Lights Festival, NW Documentary
Ambient/Techno/Prog @Winter Light Festival with DialecticFlowers, Cathedral Park Place
* All events are free!
* Limited parking at most Hubs. Ride the Portland Streetcar for FREE after 5pm Feb 1-3, 2018, or enjoy complimentary rides on the Portland Spirit River Cruises. Boat rides are about 45 minutes; walking between Hub A and B is about 20 minutes.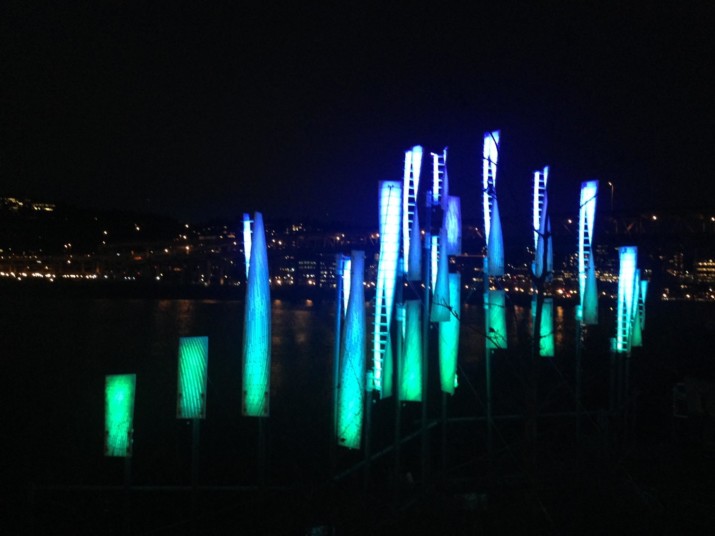 Drawing interest and recognition from across the region, the expanded 2018 artist roster showcases talent almost exclusively from the Pacific Northwest. In just its third year, the festival has already established itself as a regional attraction for artists and visitors due to the dazzling and unique installations and family friendly atmosphere.
Highlighted new offerings for 2018:
Significant expansion to sites throughout Portland, including dedicated festival hubs

at OMSI, PGE Headquarters/World Trade Center (downtown), the North Park Blocks including PNCA, and Cathedral Park (St. Johns)

Artworks such as Tyler FuQua's Cosmic Space Worm (30-foot-long segmented aluminum worm

built on 5 adult tricycles), Tron Pong blacklight ping-pong by James "JT" Thompson, and Light Gardening/A Robot at Play by Richard Miner (a large robot tending a fiber-optic garden)

Stories Around the Fire, presented by former Live Wire host Courtenay Hameister around 

a fire sculpture

Light Showcase performing arts programming at the World Trade Center Plaza featuring

BodyVox dance company and others

Tesla coil demonstrations at the Oregon Rail Heritage Center
"The Portland Winter Light Festival has already become a favorite wintertime destination for the Portland community," Chris Herring, Artistic Director of Portland Winter Light Festival said. "Nothing showcases that more than our ability to bring in artists and performers from around the region and expand the footprint of this year's festival to neighborhoods well beyond anything we've been able to do before."
Popular festival events returning in 2018:
Artworks such as Flamethrower Chandelier by Ryan Ramage, and a 50-foot-tall steel dragon 

that shoots flames titled Homage to Trogdor by Ivan McLean

Complimentary rides on the Portland Spirit and Sternwheeler, with performances by the

Portland Opera and others

Light Science Talks educational series

Silent Disco headphones dance party
Details for the 3rd Annual Portland Winter Light Festival:
Where: OMSI, PGE Headquarters/World Trade Center, PNCA, Cathedral Park, and more. See citywide festival map for exact locations.
When: 6pm-11pm, February 1-3, 2018 (Thursday through Saturday nights). Cost: Free.
How to get there: Free transportation available to most sites. The Portland Streetcar will once again offer free rides on all routes after 5pm on every night of the event. All installations along TriMet bus routes and limited parking available near all hubs.
**For complete artist listings, programming, and schedules, visit www.pdxwlf.com.
About the Portland Winter Light Festival
The Portland Winter Light Festival (PDXWLF) is Portland's premier outdoor winter arts event that transforms, illuminates and animates Portland's nighttime urban landscape. Inspired by light festivals around the world, PDXWLF showcases unique light-based art, community installations and performance, engaging Portland's diverse communities and creating opportunities for artists, designers, creatives and makers to collectively expand the boundaries of art, performance and technology in our region. The third year of the festival will take place at sites around Portland, Oregon from February 1-3, 2018.