Cortina d'Ampezzo, Italy.  25-year-old Jackie Wiles, from Aurora, stood to the right of Lindsey Vonn and celebrated that she had qualified for her second straight Olympic team by taking 3rd place in the World Cup competition on Saturday. A product entirely of the Pacific Northwest Ski Association, Wiles was on skis about the same time she figured out walking. After making the Olympic team her rookie world cup campaign and finishing 26th in Sochi, she's eager for a shot at the podium in PyeongChang. US star Lindsey Vonn won the Downhill on Italian soil and 2nd place went to Tina Weirather. Here's a short video recap of the key races: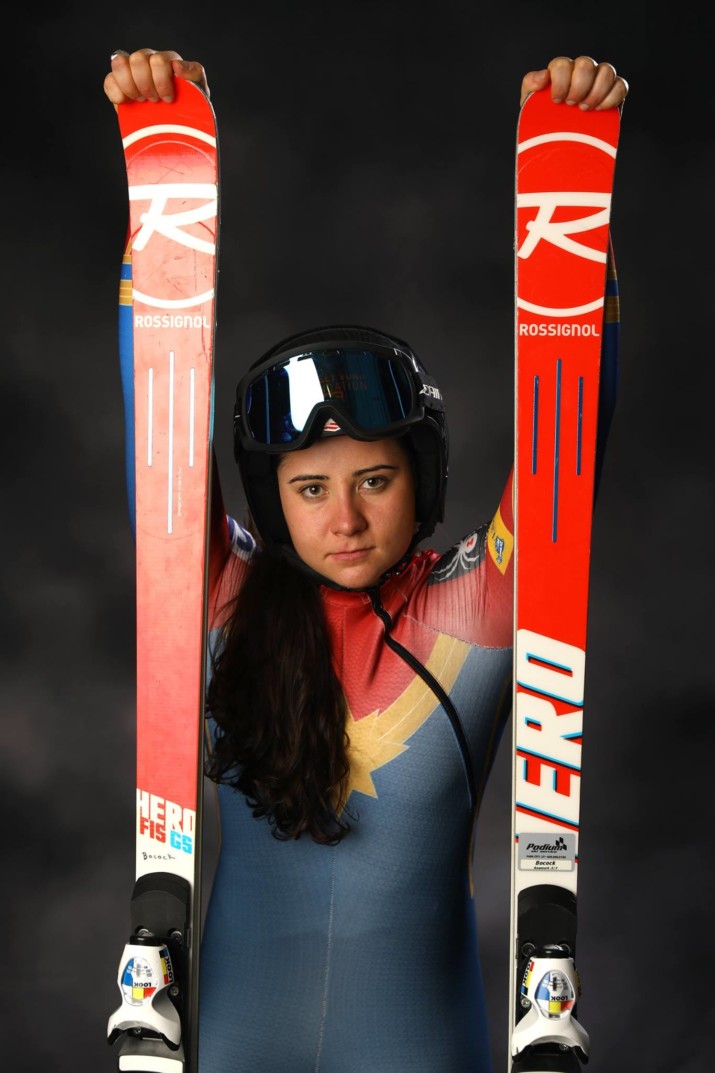 In 2015, Lindsey Vonn announced she would personally sponsor her friend and U.S. Ski teammate Jackie Wiles so she could participate in the World Cup tour. Wiles was the Lindsey Vonn Foundation's first ambassador. "Jacque needed funding to continue to follow her dreams on the World Cup tour and I was honored to help," the gold winning Olympic athlete wrote. She said Wiles is a great role model for young girls which is why she was chosen as the first ever ambassador.
Vonn launched a non-profit organization to empower young women's growth as athletes, learners and individuals. The foundation has already hosted a summer camp that was free for participants. Young girls were invited to participate in two days of athletics, like hiking, yoga and other physical challenges at the Vail Mountain School at the Vail Resort in Colorado.
"I had always wanted to start a foundation," said Vonn, when asked about what prompted her to dive into this project. "I've always been drawn to kids, but I wasn't able to do skiing and the foundation at the same time. So when I was injured, one of the best things I was able to do was start the foundation."

Vonn grins with students from the Vail Mountain School.
At the end of the day, Vonn knows she can have a lasting impact on these young girls, just like Picabo Street did on her when she was a kid. "I met Picabo when I was nine. Sometimes just really small things like that can make a big impact, a lasting impact," she related. "I'm starting my foundation on that. Just a simple autograph or giving a kid a hug, that can do a lot of good."
To get involved in the Lindsey Vonn Foundation, check out lindseyvonnfoundation.org.
If you'd like to learn more about Jackie, here's her story in her own words:
JACKIE'S STORY
My name is Jacqueline Wiles and I am from Portland, Oregon.  I first clicked into skis when I was just 2 years old and began racing at age 5.  I was fortunate my parents would take my big brother, Steele, and me up to Mount Hood every weekend.  I loved chasing him all around the mountain.  They instilled such a passion for skiing in me at a young age. It wasn't long before they decided to put us on the race team as it was cheaper than taking lessons.  I was a very active kid who did just about every sport that I was capable of.  At the end of the day, ski racing had my heart and I knew I wanted to make it as far as possible.  Just like every young ski racer, I aspired to make it onto the US Ski Team and go to the Olympics.
Growing up racing I learned a lot, and I believe the sport has really shaped me into who I am today.  I used to have so much fun ripping around with my teammates, and the bond we shared was special.  Through my younger years I became very successful from pure joy and untrained athleticism.  Skiing became easy for me because it felt so natural.  I always went out to have a blast, and that I did, until the other girls started spanking me and I needed to learn the true definition of working hard.
After graduating high school I had a decision to make,  go to college or continue to fight for my dream.  This choice was simple for me.  I knew I could always attend college, but I only had this moment to pursue my goals.  Racing was my life and the path I wanted to take.  I loved the sport so much and didn't want to give up.
The next few years were really tough.  I struggled and didn't know where to turn.  These were some of my toughest and lowest years.  I wasn't in school and my skiing was getting worse.  It was very hard and people told me to give up because I wouldn't make it.  It was heartbreaking to hear, and I didn't know where to turn for help or what to do.  I was frustrated and decided to use my frustration in a positive way to fire myself up.  I wanted to change my direction. I reassessed my situation and realized my old ways were not working, I needed to do something about it.  The first step was examining all the things holding me back and figuring out what I could do to get better. I came to a conclusion that I needed to get in better physical shape.  I was not giving myself a shot to compete with the others.  I had always assumed that I had worked hard and had good conditioning.  What I had come to realize is that, wow, I wasn't even close.
Once I decided to really focus and work hard on my body I saw a dramatic change in my skiing. I met a fantastic trainer, Troy Harvey, and decided we'd be a good fit.  He took me on 3-4 hours a day for 5-6 days a week.  I had never worked so hard in my life. It was incredible how much further I could push my body.  I was much stronger the next race season and ridiculously faster on the slopes.  I could pull off much more and resist against the new forces I was creating.  This was a huge eye opener to me; to see the hard work I had put into the gym pay off on the hill.  From that time on I understood hard work and how to push myself to be the best that I can be.
My next season I won some Nor-Am Titles, a Downhill Championship, and made it onto the US Ski Team.  This was a dream come true for me and I was ecstatic.  I had finally accomplished my goals, but I could not be content with just making it.  I wanted to stay on the team, not just be in and out.  I had to keep working hard and striving to be better.
My Rookie year I had starts for all the World Cup speed events that I had earned the previous year.  I figured the team would just take me to a couple races to get a feel for the next level.  What happen in that year was incredible and has changed my life.
I did well enough that they decided to keep taking me along race after race.  I was an excited, nervous, scared, anxious girl, eyes wide open and up for anything.  I memorized six new downhill courses.  It was an incredible year and I learned so much.  I was close to scoring many times and then finally punched into the top 30 the last race before the Olympics.  I placed 15th and made the US Olympic team a week before the start of the games in Sochi.
This was the most incredible feeling I have ever had. Remembering where I had come from only a couple years earlier, being told I would never amount to anything, to now making the Olympics and scoring World Cup points in my Rookie year. The 2014 season was incredibly rewarding.  Not only did I prove those people wrong but I proved to myself that I was worthy of competing with World Cup Athletes and I deserved to be there.  I know I surprised some people but not myself because I knew how hard I had worked…I just never knew it would happen this fast.
The next two years were the biggest learning experience in my career.  I am excited for this next season as I understand what to expect, I am better prepared, I am skiing better and I'm in great shape.  I've learned earlier what it takes to succeed and to be the best I can be.  I believe I had to go through those rough times to fully understand what it takes to succeed.  I learned a huge lesson when I was at my lowest, taking it into my own hands, and making it to where I am now.  I will never take this opportunity for granted, and I vow to enjoy every minute of every day and appreciate the Journey.  Thank you for taking the time to read about my story.
Share