Newberg, July 14th and 15th. The 2012 Summer State Games showcased the best of athleticism, sportsmanship and fun. Special Olympics athletes in Oregon competed in: track & field, bocce, golf, and softball.  All participants trained in their hometowns for eight weeks prior to the Summer Games and have qualified to compete at the Summer Games at a regional level competition.
Here's are snapshots of the inspiring fun from Jason Allen Images.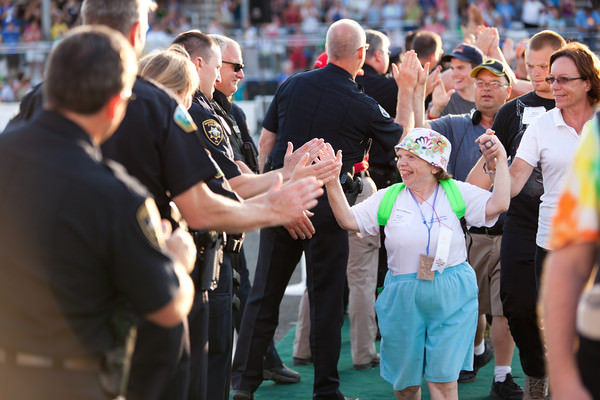 Here in Oregon, while Special Olympics Oregon serves more than 10,000 participants throughout the state, nearly 70,000 people with intellectual disabilities could benefit from participating in Special Olympics. Still growing, Special Olympics Oregon is efficiently expanding programs to get closer and closer to serving every individual with intellectual disabilities that qualifies to participate in Special Olympics.
Special Olympics Oregon offers training and competition opportunities in 14 different Olympic-style sports. There are three sports seasons throughout the year, with statewide competitions and training in winter, summer and fall.
Special Olympics Oregon holds events in every region of the state, every month of the year, providing athletes the opportunity to be competing and training as often as they choose.
Special Olympics athletes train intensely for eight weeks prior to each State Games event. Volunteer coaches are responsible for training the athletes. Volunteers must complete a certification program prior to becoming Special Olympics coaches and must attend training schools before each season.
Special Olympics Oregon (SOOR) is a not-for-profit 501(c)(3) charitable organization incorporated in the state of Oregon to provide sports training and athletic competition for persons with intellectual disabilities. SOOR is accredited by Special Olympics, Inc. (SOI) and responsible for following the policies and rules established by SOI in the delivery of services in Oregon. It is known as a Program of SOI. A volunteer Board of Directors provides policy decisions and long-range planning for SOOR. The Board employs a staff of people to implement the day-to-day operations.
Thanks to the generous support of A-dec and the amazing city of Newberg, these games will be held annually in Newberg, Oregon. Thanks to the generous support of Ken and Joan Austin of A-dec and the amazing city and community of Newberg, for making these games happen .