Portland, OR. The 2020 Oregon wildfire season was one of the most destructive on record in the state of Oregon; more than one million acres of forestry burned taking homes as well. In response to the fires, Oregon Parks Forever set a goal of raising funds to plant one...
read more
Portland, OR. Zoe designed the 'Nike Dunk Low' for the Nike Freestyle XVII collection. An alternate colorway (one of two pairs in the world) was up for auction on eBay, along with other rare products. On March 5th Nike and OHSU Doernbecher Children's Hospital raised...
read more
Portland, OR. As war erupts in Ukraine, the Red Cross is vowing continued support for the at-risk families in the region. International Committee of the Red Cross (ICRC) has been on the ground for years, delivering urgent assistance — food, fuel for heating, medical...
read more
Portland, Ore. The arts, students, stable housing and small businesses were some of the causes that received support from the Oregon Community Foundation (OCF) through the pandemic. The Foundation announced that from 2020 through 2021, it distributed more than $560...
read more
Portland, OR. A young man from Tigard is inspiring others with a fundraising drive for Meals on Wheels People (MOWP). Cooper Hammond started with a coffee stand in his neighborhood last fall and raised $500. This month, he kicked his efforts into high gear in the...
read more
Portland, OR. The nonprofit called p:ear is celebrating its 20th Anniversary and offering pre-pandemic mentoring services. Over the pandemic, the organization continued serving homeless youth with new programs including many outdoor activities. Since 2002, p:ear has...
read more
Portland, OR. The nonprofit Young Presidents' Organization (YPO) brings executives and peers together to provide community and networking experiences. The organization is educating people about the importance of supporting local nonprofits, explaining, "As the...
read more
Portland, OR. The Portland Winter Light Festival (PDXWLF) kicked off its biggest festival to date with a full roster of over 100 works of art. It's running through February 12th at dozens of locations throughout Portland. (Here's a link to an interactive Google map to...
read more
Portland, OR. As Oregon reopens, one activity Oregonians are eagerly anticipating is the return of concerts and live music. The Portland nonprofit, Friends of Noise is a local organization making a  return of live music possible, and accessible for anybody who wants...
read more
Portland, OR. The theme for this year's festival is 'Hope Reigns' and organizers are encouraging local businesses to decorate their buildings and storefronts. It's the second year with modified activities. In 2020 some aspects of the festival were similar to the past,...
read more
Portland, OR. Poison Waters (on left, posing with Tracy Curtis) will take her enthusiasm online this year for the 'Our House' Virtual Gala. Organizers encourage supporters to step back in time and tune in for an MTV-esque online event set in the '80s. The free benefit...
read more
Portland, OR. The season of giving doesn't have to end with Christmas; it can continue through AmazonSmile, a program that automatically donates to a nonprofit organization of your choice. The program offers all of the same items, prices, and benefits of online...
read more
Portland, OR. Friends of Noise is a Portland-based non-profit that provides young artists with a well-rounded introduction to the music industry. (Wavy Josef, is shown playing an outdoor show above.) With professional workshops in everything from designing fliers and...
read more
Government Camp, OR. Mt. Hood Skibowl is now open for skiing and snowboarding. Ski Bowl managers say they'll be operating with limited terrain on Multorpor, via the Lower Bowl (West Side). Skiers and Riders will be directed to the West Side and lift tickets will be...
read more
 Portland, OR. After two years online, the Portland Arts & Lectures series resumed in-person events on January 27th. Author Cathy Park Hong was featured at a Literary Arts lecture held at the Arlene Schnitzer Concert Hall. Cathy Park Hong was born to Korean...
read more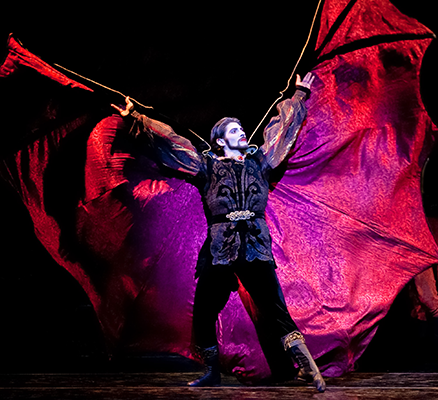 Portland, OR. Oregon Ballet Theater (OBT) has announced it will take a uniquely Portland approach to the month of love with the premiere of Ben Stevenson's Dracula.  It's based on Bram Stoker's 1897 gothic novel of the same title. (Photo credit, Kat Luber courtesy...
read more
Portland, OR. Women who think they're healthy often misread the symptoms of a heart attack because they don't think it could happen to them. That's why it's crucial to learn about heart attacks, know your numbers and live heart-healthy. Now is a good time to review...
read more
Park City, UT. After nine days, 84 feature films and 59 short films, the juries have deliberated and audience members voted. This was the second year the festival was held online. The Grand Jury Prize was awarded to Nanny (U.S. Dramatic), which is seen above. Director...
read more
Portland, OR. The Year of the Tiger kicks off on Tuesday, February 1st and the Lan Su Garden Garden is ready. The garden hosts one of the biggest Lunar New Year celebrations in the Pacific Northwest including a lion dance performance at the garden's Entrance Plaza....
read more
Portland, OR. The 2022 Sundance Film Festival opened on January 20th, debuting its lineup of new documentary and narrative films via streaming for the second year in a row. Films are viewed online and there are chat sessions online as well, like the one pictured above...
read more
Vancouver, WA. Bank of America is kicking off 2022 with a donation to the Oregon Food Bank and Clark County Food Bank. For each employee who gets their booster shot and notifies the bank before January 31, 2022, the bank will donate $100 to the local hunger relief...
read more
Salem, OR. "We often hear that operating support is the most important type of award," said Arts Commission Chair Jenny Green. "Especially now, as arts organizations struggle to recover from losses caused by the pandemic, these awards help relieve a bit of the...
read more
Manzanita, OR. It's quiet as the sun sets on the Oregon Coast. The National Tsunami Warning Center had issued an advisory for the Oregon and Washington coasts Saturday on January 15th after a large underwater volcano erupted near an island in the South Pacific. It...
read more
Portland, OR. During the 2021 Employee Giving Campaign, current and retired employees at Standard Insurance Company (The Standard) pledged $1.9 million benefiting more than 2,200 schools and nonprofit organizations including the Oregon Humane Society. After a...
read more